The Chabannes Journal
In 1942, the staff and children in the Chateau of Chabannes completed a 170-page journal, under the direction of its Director, Félix Chevrier. This document is a wondrous mix of children's essays and drawings, profound insights by the chateau staff and beautiful black and white photographs of the students and teachers at the chateau. We discovered this handmade treasure at the Center of Contemporary Jewish Documentation (CDJC), the Paris archive where Chevrier left his papers in 1958. This extraordinary work, was used in our movie to illustrate our story.
Journal excerpts used in our film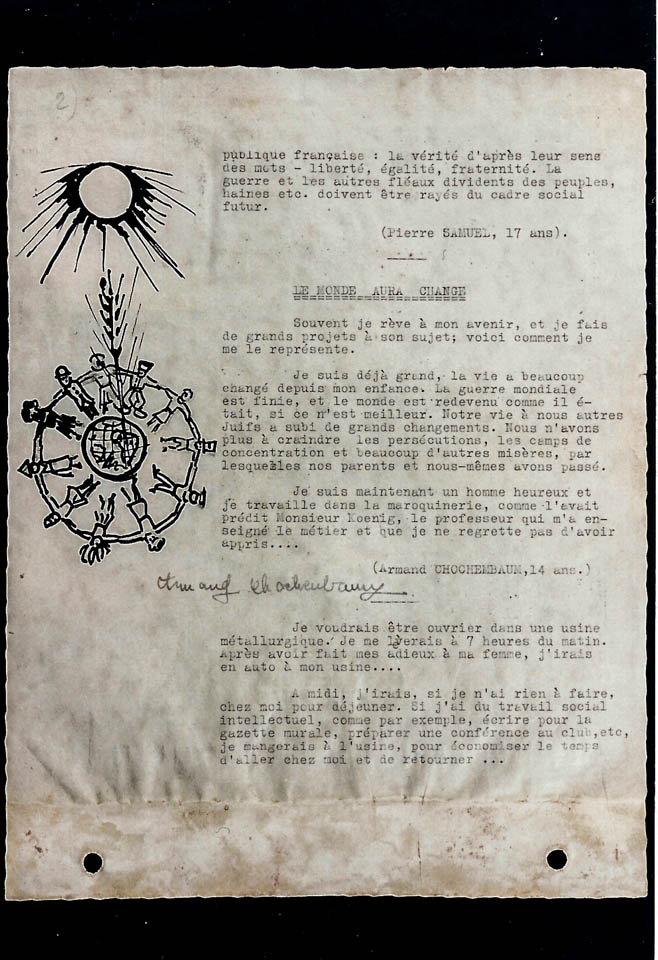 To be an educator in 1941, to be near these children who have suffered from a war so hostile to adolescence is a profoundly moving experience. These few pages will give a faint idea of what these children have endured: hunger, separation from their families, expatriation, visions of war, the terrifying exodus from the occupied zone, concentration camps — and what they've found at the OSE — shelter, food, order, schoolwork, and an atmosphere of kindness, without which there can be no normal childhood…  – Ernst Jablonski, Educator at Chabannes, 1941
To examine the children of Chabannes after having examined the children in the concentration camps is to know in our sad times the two faces of France. The true one is here in Chabannes, where Mr. Chevrier is working with such beautiful success to cure the misdeeds of the other.  – Dr. Meiseles, who visited Chabannes, 1942
My Dear Children, My Dear Colleagues!
You did not know the France of yesterday, a country that now lies murdered. It was, and it will be again, a place where principles and generosity shine as beacons throughout the world. Those who, with the little they have, welcome you and help you to live, are the true French. When it comes to children, the hearts of men know no borders.
Your religion is not the same as mine and you know it. However, the God that was revealed to me when I was a child is the same as yours… That is why I can not find you different from who I was at your age. My soul refuses to share the prejudices of Hitler against you and yours.
I hope that when you are adults, you will remember these days by reaching out to unhappy children everywhere, and returning with interest what you were given here.  – Félix Chevrier, Chateau Director, 1942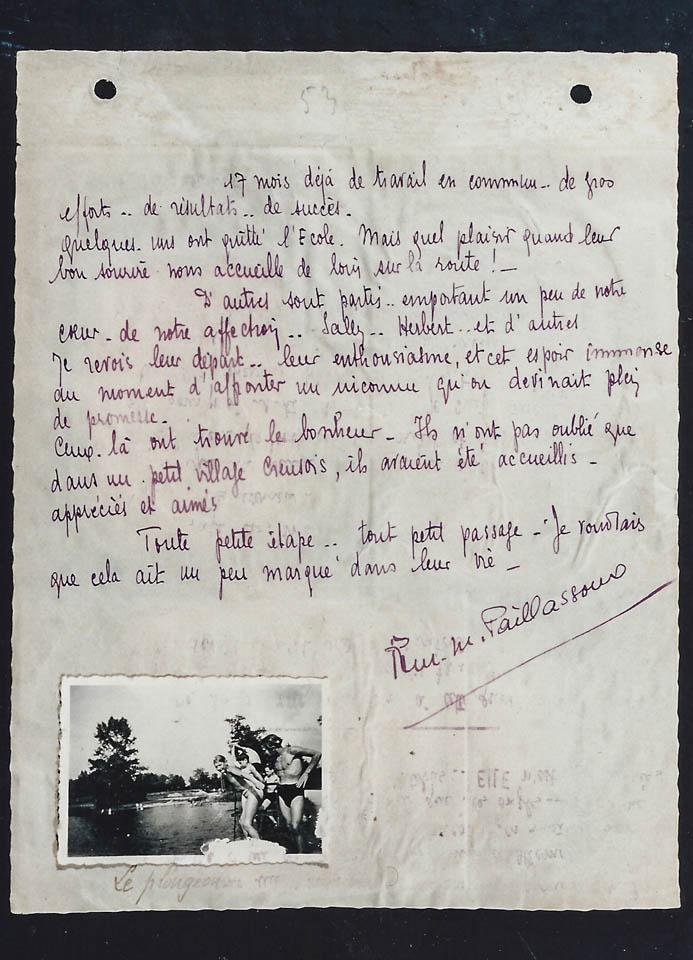 Seventeen months of working together… Huge efforts, great results, success. Some of the children have already finished school. Others have left France, taking with them a little of our hearts and our affection. I can picture them now as they were leaving… I remember their enthusiasm, the immense hope in their eyes as they set out for an unknown that we hope will be full of promise. They are the ones who have found happiness. They have not forgotten that in a little village in the Creuse they were welcomed, appreciated and loved. One short stay. One tiny passage. I would hope that the memory of our time together will stay with them for the rest of their lives.  – Renée Paillassou, Chabannes Educator, 1942